For clothes to fit you and the way you live your life...
Personal Shopping
If you need some help in pulling together a capsule wardrobe, getting started for a new job or just fed up with the clothes in your wardrobe and want a fresh start, we are able to offer personal shopping at our boutique absolutely free.

We know the stock we hold in the shop and know how the various items fit, how they flatter certain bodies and what works with what. We may ask you to try something you haven't thought of trying before – maybe you will surprise yourself.

However, we are always true to ourselves about offering helpful advice and 100% understand that you need to feel comfortable and know you will wear the pieces once you have them home.

Style Consultations
One-2-One and Group Style/Colour Consultations

Ever wondered why you have lots of clothes but nothing to wear? We can give you some top tips on how to create outfits, learn about your body proportions and how to create your own personal style. Our stylists will give you advice to enable you to use your clothes to re-balance your body and create a look which will be the envy of your friends!
Would you love to find out which colours suit you best? We can show you how to use colour to make you look healthy and younger(!), as well as helping you create a co-ordinated wardrobe of clothes – no more "I've got nothing to wear" moments.

Book either a one-2-one appointment or come and join us with a group of your friends for an evening of shopping, styling and fizz!

We offer the following consultations. Choose from;

Style Analysis

Body Proportions Analysis

Colour Analysis

One-2-one sessions - Normally £75, Special offer £50
Groups (between 4-8) - Normally £50, Special offer £25 per person

Mini eye make-up tutorial with our neighbour CaBella can be included in the colour consultation for an additional £15 per person



At Home Wardrobe Management

Two hour at home appointment (within 25 miles of Nottingham City Centre) £125
Additional time £50/hour


Pure Shopping Evening
If you don't fancy the styling, why not book our Pure Shopping Evening for you and your friends – no charge, you bring the friends and we'll provide the fizz! Have the shop to yourselves from 6-8pm.


Style Talks for Charity Fundraisers
Are you involved with school fundraising, a WI/Ladies group or a local/national charity?

Why not book one of our stylists to provide a fun style talk. You arrange the event, sell the tickets and we'll bring along our pop-up shop and provide the entertainment!

We will also provide a great raffle prize to add to your fundraiser.

Other fundraising activities include

- Fashion Shows
- Clearance sales
- Coffee mornings

Call us to discuss your requirements.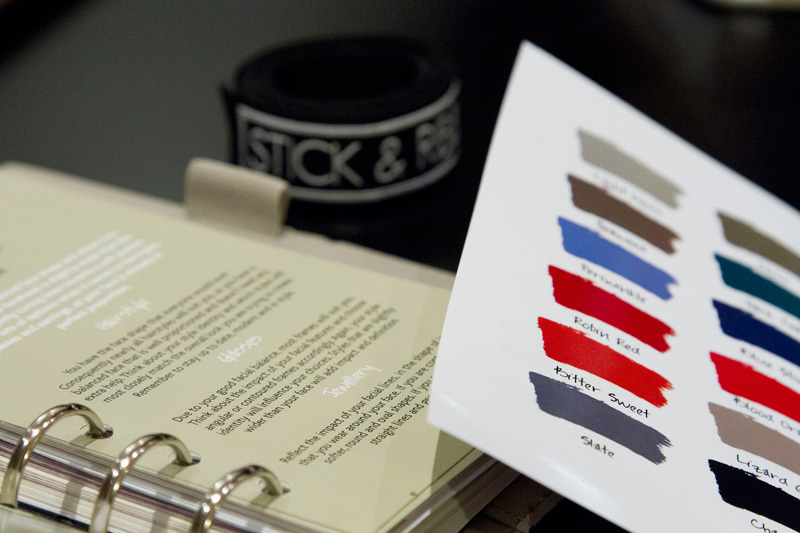 Alterations Service
We understand that garments will not always be a perfect fit. We will offer advice on items bought from our boutique to ensure you get the best fit to flatter your body.

Also, we are able to help you with items you already have in your wardrobe but you are not wearing because they are too big or too long! So why not give your wardrobe a boost - dig out those items you love but you are not wearing, bring them along to Stick & Ribbon and we'll nip, pin and send them to our lovely Gill for her to work her magic.

Trousers turn up - from £10
Trouser/skirt waist alteration - from £11
Dress / skirt hem alteration - from £10
Jacket sleeve shortening - from £15

A full remodelling service is also available - dresses to tops, updating jackets... once you start, you'll never look back! Call us for more information